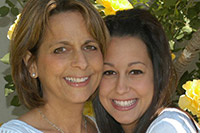 Mother whose young daughter died from ovarian cancer raises money for UCLA cancer research SEPTEMBER 2014
Inspired by her memories of her daughter, Paulinda Babbini created a nonprofit to fight gynecological cancers.
---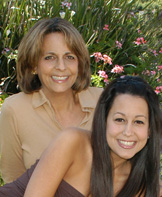 THE JEWISH JOURNAL- THE MENSCH LIST JANUARY 2013
Often, when someone is coping with an extraordinary loss, the feelings can be all-encompassing. When Paulinda Schimmel Babbini's daughter, Robin, died of ovarian cancer at the age of 20, instead of letting the tragic death immobilize her, Babbini made it her mission that no one else should go through what she had.
---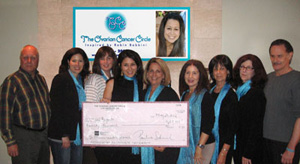 U MAGAZINE (UCLA) DECEMBER 2012
The Ovarian Cancer Circle/Inspired by Robin Babbini is a non-profit 501c3 organization guided by a board of directors, gynecologic oncologist and medical advisors. The members are committed to creating an ever-expanding ring that encompasses networking, education and support for women of all ages and their families and friends who are affected by ovarian cancer. Click here to read more……….
---
THE BRIDGE- CEDARS-SINAI NEWSLETTER OCTOBER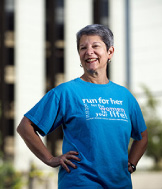 2012
Doreen Braverman was pale and gaunt. She could barely walk, much less run.  And she was facing rounds three and four of chemotherapy.
How she got out of bed to participate in her first run for her® 5k Run and Friendship Walk, a charity fundraiser hosted by Cedars-Sinai to generate funding for ovarian cancer research and awareness, is a mystery – yet it's not……Click here to read more…….
---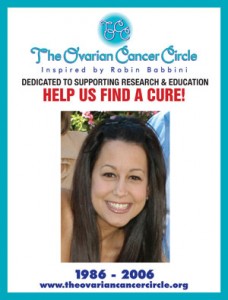 OVARIAN CANCER NATIONAL ALLIANCE ARTICLE MAY 2012
Like many Partner Members of the Alliance, the Ovarian Cancer Circle/Inspired by Robin Babbini was founded in memory of a particular woman with ovarian cancer. What sets Robin apart is her age at diagnosis: 17. "Our family didn't know the symptoms," recalls her mother, Paulinda Babbini. "A full year passed from Robin's earliest symptoms to her diagnosis." Click to read more………
---
ELEGANT LIVING MAGAZINE  – SPRING 2011
Robin Babbini was an active, high spirited teenager and honor student, engaged in numerous high school activities. Her dynamic life was turned upside down when at the age of 17 she began to have a series of disturbing, conflicting symptoms that defied diagnosis. She was so young that doctors never contemplated anything as serious as ovarian cancer. But as the gravity of the symptoms persisted, tests concluded that Robin had Stage 3 ovarian cancer. CLICK HERE to read the full article
---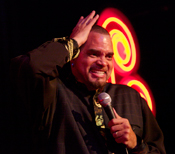 PATCH.COM
Comedian/actor Sinbad will be the headliner at a special comedy show, "Happily Ever Laughter," benefiting ovarian cancer research. Hosted by comic Jeanette Rizzi, the show is Thursday at 7 p.m. at the Comedy Store on the Sunset Strip. Ticket price of $75 includes a buffet dinner as well as the comedy show. Other comics scheduled to appear are Troy Rawlings, Bobbie Oliver, Vargus Mason, and Darren Carter. CLICK HERE to read the full article.
---
BEVERLY PRESS – Match 2011
A Mother's Love Knows No Boundaries
Robin Babbini was an honor roll student, an overachiever and prom queen. When she was diagnosed with Stage 3 ovarian cancer at the age of 17, she and her family were devastated. She valiantly fought the disease with aspirations of becoming a fashion editor for four years but passed away on June 29, 2006. CLICK HERE to read the full article.
---
Patch.com 2011 – Mother Honors Daughter with Ovarian Cancer Fundraiser
In 2004, when Robin Babbini was a 17-year-old senior at West Hollywood's Pacific Hills High School, she was the kind of teenager many parents hope for.A counselor with West Hollywood's recreation program as a sophomore and junior, she'd blossomed in her senior year as an honor student, co-captain of the cheerleading team, homecoming queen, and active student with the school's dramatic arts program. Her parents, Paulinda and Ron, couldn't have been prouder. CLICK HERE to read the full article.